NEWS RELEASE
For Immediate Release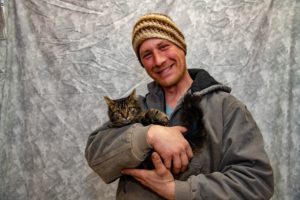 Feb. 10, 2020
Spay & Save program marks 100,000 surgeries and 10 years of service
Portland, Ore. – Ten years ago, the Animal Shelter Alliance of Portland, ASAP, came together to tackle one of the most pressing problems in the community; cat overpopulation. They created the Spay & Save program to give low-income pet-owners an easy and affordable way to have to their cat spayed or neutered. Five surgery sites were established; the Oregon Humane Society, Cat Adoption Team, Feral Cat Coalition of Oregon, Multnomah County Animal Services, Humane Society for Southwest Washington and Washington County Animal Services (drop off / pick-up).
Now, the Spay & Save program is marking an incredible achievement as it celebrates its 10-year anniversary. More than 100,000 cats have been spayed/neutered resulting in 50% reduction in cat and kitten intake from the public in local shelters in the past decade. Spay & Save also serves caretakers of feral cats.
"Before the Spay & Save program began, our shelter took in over 13,000 animals each year.  During kitten season, it was not unusual to receive 90 – 100 animals in a single day, which completely overwhelmed our space and resources. Today, with less than half that amount of animals coming through our doors, we are able to focus our resources on finding every pet a new home with a family that loves them," says Lisa Feder, Vice President of Shelter Operations at the Humane Society for Southwest Washington.
Demand for the subsidized and low-cost spay/neuter service continues to be high, with surgery schedules filling up at least a month in advance.
"We continue to reach out to outlying communities of the metro area," says Anika Moje, Senior Program Manager, ASAP/Oregon Humane Society. "For example, in 2019 we made a concerted effort in underserved areas of rural Clackamas County and host monthly transports with central drop-off locations to make the process easier for pet-owners."
PetSmart Charities provided the funding to establish Spay & Save in 2010 and helped offset the cost of the program for many years.
"Spay & Save was created to save lives by preventing unplanned litters," says Karen Green, executive director of Cat Adoption Team, a founding ASAP partner. "We estimated that we needed to do 10,000 more spay/neuter surgeries each year to meet our goal. Ten years and 100,000 surgeries later, Portland metro-area shelters have some of the highest save rates in the country and ASAP serves as a national model of collaboration."
For more information about the spay and neuter surgeries ASAP provides, visit http://asapmetro.org/spay-and-save/ or call 1-800-345-SPAY.
Media contacts:
Laura Klink, Public Information Manager, Oregon Humane Society, laurak@oregonhumane.org
Karen Green, Executive Director, Cat Adoption Team, kareng@catadoptionteam.org
###
About ASAP
Founded in 2006, the Animal Shelter Alliance of Portland (ASAP) is a working coalition composed of the following Portland/Vancouver-area animal shelters and organizations: the Alliance for Contraception in Cats & Dogs; Cat Adoption Team; Clackamas County Dog Services; Feral Cat Coalition of Oregon; Humane Society for SW Washington; Multnomah County Animal Services; Oregon Humane Society; Portland Veterinary Medical Association; and Washington County Animal Services. We envision a community that values, protects and cares for animals and provides a safety net for homeless and at-risk cats and dogs. Working together, we develop and sustain metro-wide programs and services that reduce the number of homeless cats and dogs, and save the lives of all shelter pets that can be humanely and responsibly rehomed. For further information, please visit www.asapmetro.org